Howdy Sizzlin Savage readers! I am Allison from Refunk My Junk and I am so excited Nicole invited me on over to guest post today!
We are sure missing Nicole in Oklahoma, so it makes me feel like she's right here by visiting her here, on her blog's home! Today I am going to share a super easy blinged out pumpkin project just in time for Fall!
Here is what you need:
1. One Plastic Pumpkin: I got mine at Michael's for $4.00. It was super cheap because it had a crack in it!
2. A glass or plastic candle stick that you can find at any old thrift store for .50 cents.
3. Spray Paint: I chose a high gloss black to match my cracked out pumpkin. Additional Spray Paint in a contrasting color.
4. Rhinestones from the $1 bin at Michaels.
5. Wooden letters from the $1 Bin at Michaels. (Can you tell I hang out at Michaels way too much?)
I chose to spell the word "Boo" with my letters.
6. Ribbon: Just any old ribbon you have laying around your casa.
Now that you have your supplies gathered up, let Refunk this pumpkin!
Spray paint your candle stick and BOO letters.
Slap those rhinestones on, and no glue needed since they already have sticky backs.
Glue your letters on with your hot glue gun.
Tie up a bow and stick it on the stem.
DONE!
Easy!
Fast!
Cute!
Thanks so much for letting me stop by and share my blinged out pumpkin project with you today!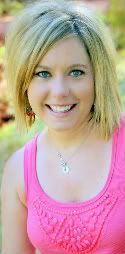 I would love for you to stop by my blog for more inspiration on decorating your home on a dime!
You can also find me on
&
Pinterest!
Happy Refunking!